Dear Swimmers
A big congratulations to all those who bravely made their way across to Rottnest Island on Saturday in the 23rd Annual Rottnest Channel Swim. I'm still waiting on a few details (namely the full results!) before I give a report on the day, but needless to say there were some exceptionally good results - so well done all!
Just a reminder that this Thursday (28/2) and next (7/3) there will be no Thursday 6.30pm session with Coach Sally due to two carnivals that are running. Very sorry for the inconvenience. When we start back up on 14th March though, we will be back in the 50m pool then, so that'll be a nice change!
Lastly, a lot of people are asking about squad availability at the moment, now that the Rottnest Channel Swim is complete. If you are intending on taking a bit of a break now, please be so kind as to let me know so that I have a good idea on numbers and available space. Believe it or not, we have an incredible 193 people on our squad wait list waiting to come and join the squad and as such it's imperative that I know what I can and can't offer to people given the flexible nature of the PAYG card system...I think I need at least two new pools and about 10 new coaches! LOL!
I'll be away from this Thursday for just over 3 weeks coaching in the UK, so the general plan is to keep the numbers a little quieter for Coaches Sandy, Sally, Brad & Francene whilst I'm away and looking to see what the space is looking like for some new faces if necessary come the end of March.
Cheers and have a great week!
Paul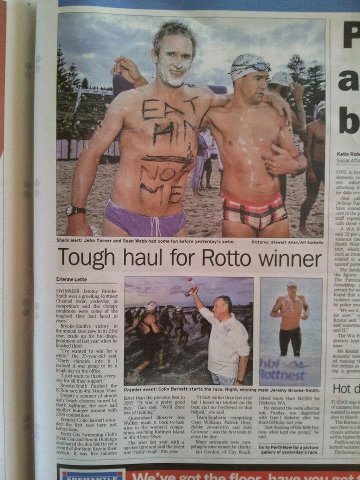 P.S a good number of the Rotto crew are planning an informal get together at The Claremont Hotel this Friday from 6.00pm if you can make it...sadly I won't be there in person, but will be in spirit! If you need a point of contact, look for the guy from page 9 of the Sunday Times yesterday ("J.T") who had "Don't eat me, eat him..." sprawled across his chest pointing to other squad member and first-time Soloist, Sean Webb - well done boys - great photo!